Biju Ibrahim's Striking Photo Project on Mattancherry's Cosmopolitanism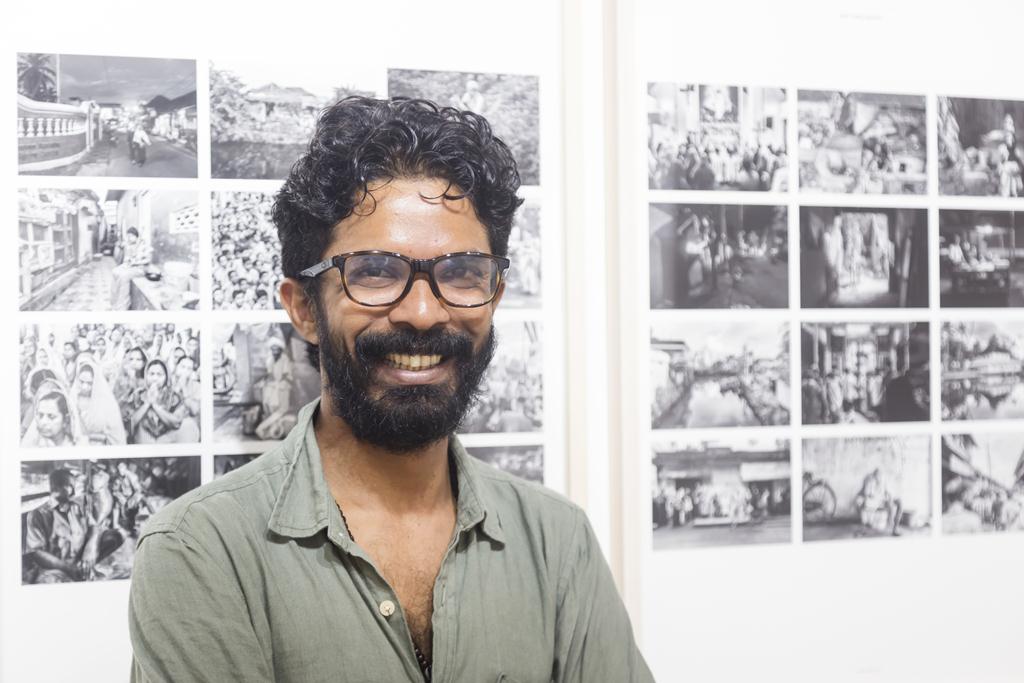 Biju Ibrahim's photo project reflects the unique spirit of Kochi's Mattanchery through the family portraits of 38 distinct communities. Photographs by BIJU IBRAHIM and written by MUHAMMED NOUSHAD.
Places have souls and Mattancherry in the city of Kochi has a mystic one. Biju Ibrahim discovered this while documenting the lives of Kochi's 38 communities through black and white pictures. Distinct in layers of identities – caste, faith, language, ethnicity and region – these communities have been welcomed over centuries and have, in turn, infused Mattancherry and Kochi with a rare and rich heritage.
Historically, it has been home to Muslims, Christians, Jews and Hindus. The sea and port attracted sailors, traders from Arabia and Gujarat, preachers of Semitic faiths, colonisers such as the Dutch and Portuguese, political refugees and migrant labourers. A cross-section of India lives here in a radius of 5 kilometers.
Biju Ibrahim, a self-taught art photographer originally from Kondotty, walked the alleys of Mattancherry with his camera for three months and the result is an amazing collection of photographs of a diverse land and its varied people. Transcendence/Kochi, the ongoing photo exhibition of Ibrahim's work at Fort Kochi, is a tribute to the refreshingly thriving cosmopolitanism of Mattancherry and serves as a poignant, powerful reminder in an increasingly xenophobic world.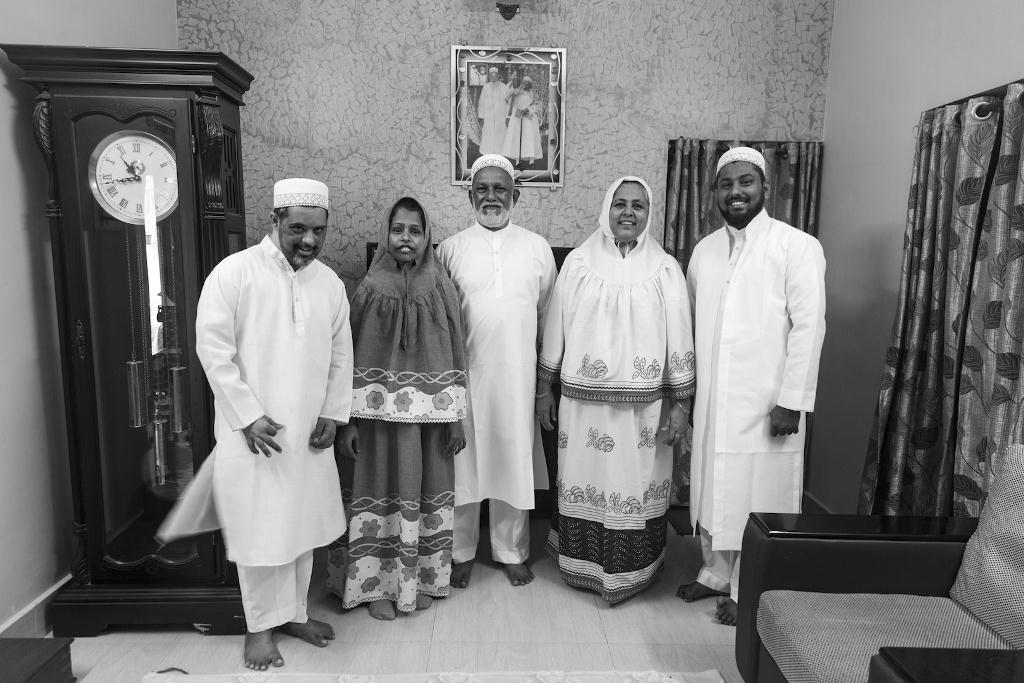 Ibrahim photographs families from 38 communities to showcase the epitome of co-existence. The frames offer brief information about the history, place of origin, approximate population of each community. This project was commissioned by Uru Art Harbour, a centre for art and culture in Kochi, as part of an artist-in-residence programme. In a way, it is the continuation of the critically acclaimed art exhibition titled Mattancherry, curated in 2017 by artist Riyas Komu, who founded Uru Art Harbour.
"Mattancherry still maintains that historical welcoming spirit of conviviality and trust," said Ibrahim. "However, inside their houses, by and large, every community takes pride in their identities and feels somewhat superior to others, and at the same time, when they are outside their houses, their social life is inevitably intermingled with the people of other communities. Coexistence comes to them so naturally that they don't have a choice. It is such a small place. The current India has many lessons here."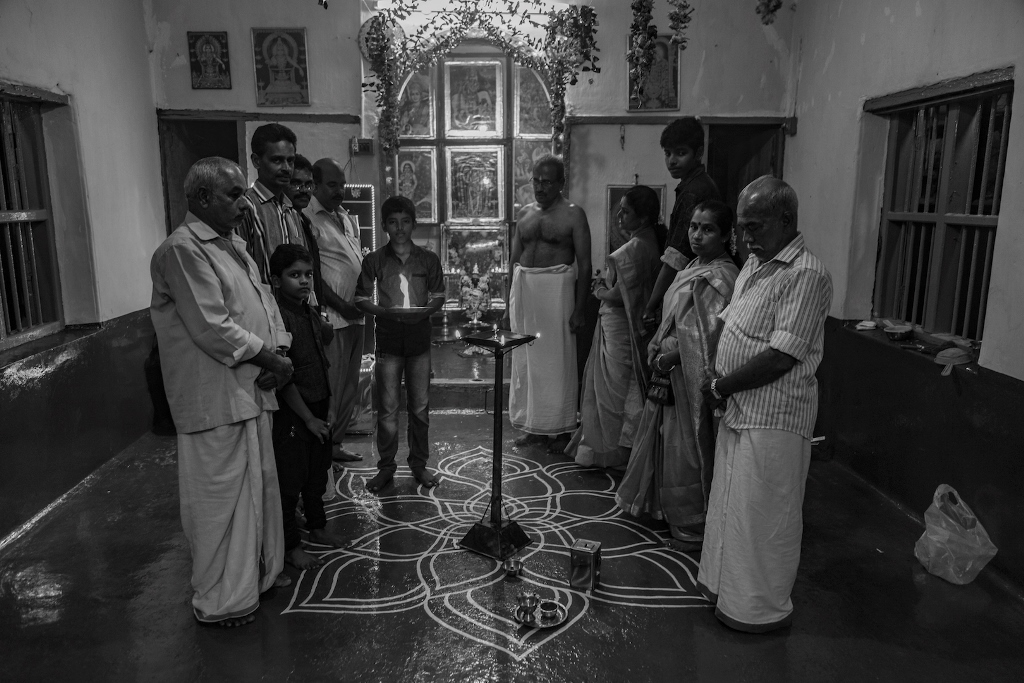 Certain communities, particularly when they are minorities and yet assertive of their lineage, are strictly self-guarding and it becomes a challenge to access their households; the risk doubles when you need to photograph their children and women inside their houses. But Ibrahim seems to have done this with commendable ease.
Typically, he would meet the community elders, introduce his mission and wait for their permission. Mostly, they asked him to come the next day, or another day. None of them have turned him down so far. However, in certain cases, it took one and half months to convince certain families to be photographed. Later, most families became very friendly and they started inviting him for food, Ibrahim said – "Mattancherry has a long tradition of hospitality. I could easily sense the welcoming spirit of its people. I have seen a somewhat similar spirit in my native place of Kondotty, which is also a predominantly Muslim town, like Mattancherry. In the mainstream narrative, these people are often stereotyped as intolerant and aggressive. See, the ground experience is very much the opposite."
Keeping the frames in black and white was a conscious decision. "I wanted my viewers to specifically look at the people, rather than noticing the backgrounds and settings. Colour photographs often distract you; they make you appreciate the beauty of the frame, texture, clothes, details etc."
Living history
Biju's approach was inherently ethnographic. Apart from the basic reading, the research for the project was mostly done in the field. He listened to the community elders, visited the community association offices, and collected the local histories printed in pamphlets and souvenirs, whenever available. Apart from Komu, Biju's local friend Sharhad Haneef and a sailor Fayas Bava supported him to tread along.
The detailed project, for which Ibrahim is staying back in Mattancherry for a year, includes oral histories, archiving of documents, old photographs, belongings, among other things. About the negative stereotypes of Mattancherry in popular culture, Biju said: "In films and literature, there is an external eye. We the outsiders come here and walk through the narrow lanes and judge upon what we see. Nobody gets in to the real lives of these beautiful people."
Ibrahim warns that the contemporary politics of hate in the national level is seeping in everywhere. "I hope the people of Mattancherry will have the conviction and confidence to say no to the politics of hatred. However small they may seem now, it is harmful to the fabric of this place. In a single areal shot, you can see a synagogue, Nainan mosque, Devi temple and the Dutch palace…"
Mattancherry has an active population of domestic goats, street dogs, cats and pigeons, whom Ibrahim has photographed, too. "My spiritual journey has been reawakened by this town," he said. "The places I have enjoyed photographing before were mostly mountains and vast landscapes. Here you get only narrow streets and overcrowded markets. Still it surprises me on a daily basis as I ride my bicycle [and] encounter the magical charm of this place and people. Their cheerful smiles, contentment, willingness to help, the light patterns of the space and the simple architecture where people inhabit or worship offer an aura. I realise why different communities felt home here."
[Originally published in Scroll.in: https://scroll.in/magazine/883043/a-striking-photo-project-from-kochis-mattancherry-captures-the-harmony-between-its-many-communities]