Dr. Basheer Ahmed Muhyidin: The Kerala Scholar Who Translated Quran into Two African Languages
Obituary
With the demise of Dr. Sheikh Basheer Ahammed Muhyidin Al-Azhari, the Islamic world has lost a great Quran scholar, translator and preacher. It's nearly impossible to introduce Dr. Basheer Ahammed Muhidin in one word: one of the great scholars of Islam of our times, an enthusiastically hard-working translator and interpreter of Quran into three foreign languages other than English.
He died at a private hospital in Kochi in his 67th age, in 2005. He was born in a family known for its traditional scholastic service for Islam in Kerala. He traveled to different Muslim countries for his higher studies and research in Islamic studies. The places where he spent for learning Islam include the prestigious Al-Azhar Islamic university. He lived several years working in the African continent doing dawah and academic teaching at different centres. When he died he was serving as the visiting professor at the Law Faculty of Cano University in Nigeria and as the delegate of Darul Iftha, the Ministry for religious affairs in Saudi Arabia. He also held the post of the Vice Chairman of the Syed Habeeb Abdullah Bin Alavi-al-Haddad Trust near Thrissur in Kerala.
It was the Darul Iftha of KSA that assigned him to study the different versions of English translations available. Having gone through different texts, he prepared a full-length English language interpretation of the Holy
Quran, which had had the particular objective of overcoming the limitations of existing translations. This distinguished work is titled Quran, The Living Truth: An Effort to Convey Its Meaning. He went on with his efforts to make people of distant and remote regions aware of the divine truth, through translating the Quran into yet un-thought-about languages. He studied Hausa language, which is spoken by nearly 10 crore people in the
West Africa, and got published his Quran translation in that language. Next he learnt another African language namely Yourba in order to translate Quran into that language. His next linguistic destination was Bumbra language, which is spoken in Senegal and Mali Island. They were all unprecedented efforts in the area of Quran translation in those languages.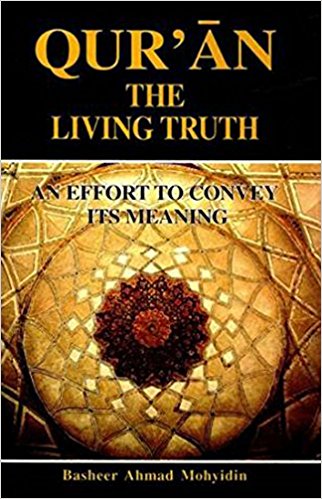 Throughout his life, he lived as a very humble and respectable servant and scholar of Islam. His deep piety and devotion kept him content about his laborious efforts to serve the people. He didn't publicise himself, it was a quiet and silent service. But his works would speak for themselves. Even in Kerala, where he was born and brought up, only few people knew this great Quran scholar when he was alive. He has never been a public figure; rather the public knew him closer only after his death. But he was highly respected among the scholars and learnt people.
Dr. Basheer did his primary education in Kerala, from Pravanna Governement high school and Vazhakkad Darul Uloom College. Thereafter he joined Baqiyatu-Swalihat College at Vellor in Tamil Nadu and later Darul Uloom Deoband in UP. For higher studies he went to Egypt's famous Al-Azhar University and then to Cairo University. He had had the opportunity of being the classmates or batchmates of famous personalities in the Muslim world. They vary from political leaders to religious heads. Among his co-learners the most important are the former Iraqi President Saddam Hussein, Mali Island's President Mamoon Al-Qayoom, Malaysian Minister Hassan Noor, Brunei Mnister Yahya etc. From his home state, Muslim League leader Panakkad Syed Mohammed Ali Shihab Thangal and noted writer late Muhyuddin Alwai also studied with him.
The demise of this modest and dedicated preacher and scholar would be a great loss for the Islamic dawah movements in remote areas of the world. Anyway, his committed intellectual contributions and laborious linguistic ventures would enlighten and inspire many who want to take similar routes. May Allah receive his soul into Paradise.
By Mohammed Noushad
[Originally appeared in Milli Gazette]