Matrilocality, Mudukku and Maasi: Kayal's Distinct Cultural Saga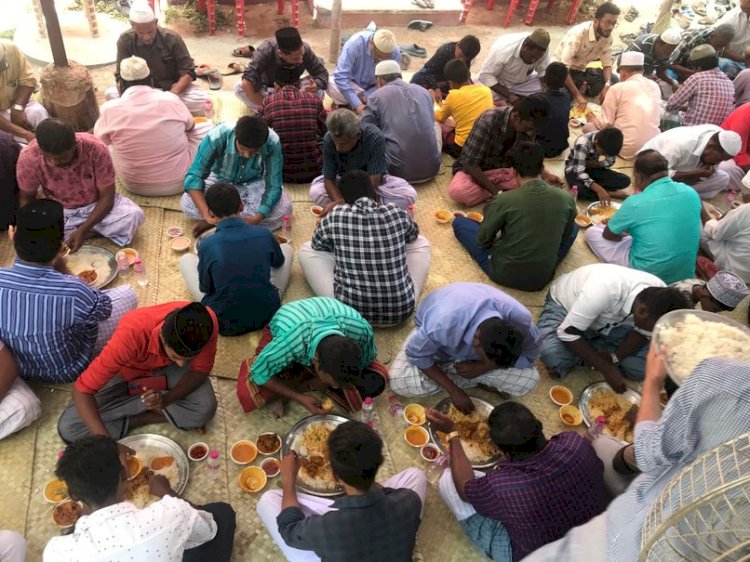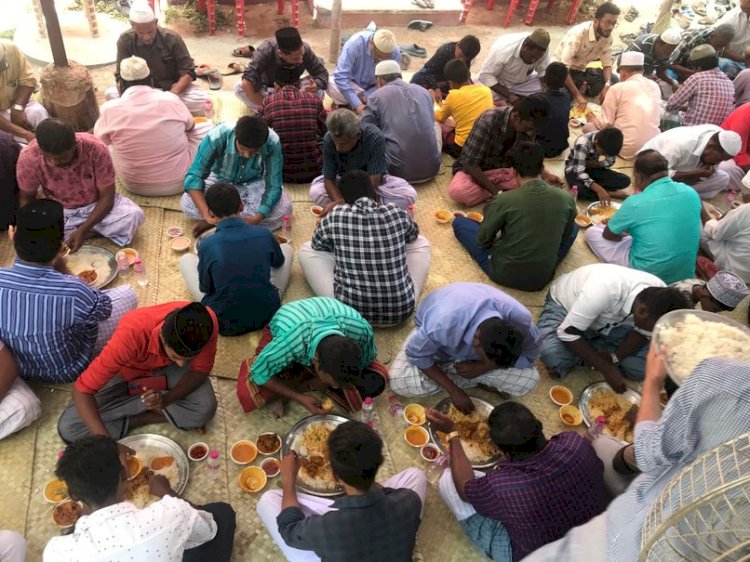 Kayalpattinam's cultural distinction includes matrilocal practices, wedding ceremonies, cosmopolitan culinary influences, women-only Thaikas, Mudukk and popular entertainments. MUHAMMED NOUSHAD looks into the cultural practices of the town.
When you take a walk through the immaculate interior alleys of Kayalpattinam, the town elders might inquisitively stare at you and offer guidance. It is their way of telling you that you are being watched. Not that the outsiders are unwelcome in this historic, hospitable port town; people are friendly and gentle. The town has innumerable Sufi shrines and popular graves where pilgrims throng from remote locations. But business is done, you may leave. That is why there isn't even a single lodge or hotel in the town despite crowd-pulling annual festivals at Sufi shrines, popularly known as Kanthuri. Men are allowed to stay in masjids or makeshift arrangements on such occasions. Women and families who reach the town for ziyaarat, on a daily basis, stay at nearby pilgrim towns, as Ervadi, Nagore and Melpalayam lie in the same trail of southern Tamil Nadu Muslim pilgrim route.
It's not just lodges that are conspicuous with their absence in Kayalpattinam. You won't see cinemas, liquor shops, lotteries and even a police station. This predominantly Muslim town, arguably a closed community with unique cultural traits, doesn't necessitate any of the above, perhaps. In many aspects, Kayalpattinam is unlike most of the Tamil towns. From culinary aromas to community dining to peculiar shrine festivals to the town layout, the uniqueness is inescapably evident.
As Kayal is not an island to naturally prevent outsiders from visiting or intermingling, one may wonder, how they preserve certain customs visibly distinct, or "unadulterated" by alien elements. The answer partially lies in their marriage customs. They are a traditional matrilocal society and marriages mostly happen within the same clan or the same street or even the same neighbourhood – a euphemism for endogamy.
By and large, the town's Muslims, based on their ancestry and trade traditions, are grouped into clans such as Marakkayars, Labbais, Nainars and Makhdooms; but with no particular hierarchy. Marakkayars have a long maritime history – etymologically, it could be a portmanteau of Arab word Marakab (boat) and Rayar (king) or Marakkalam (ship) and Rayar – with undisputable supremacy in the art of navigation. The historian anthropologist Susan Bayly even called the Moor ports across the Coromandel coasts as Marakkayar ports.
Labbais, a broad category found all across the Tamil coast and in many places engaged in religious duties, also claim Arab ancestry. Interestingly, certain colonial documents, as the Census Report of 1881, called them "the Mappilas of the Coromandel". In fact, Marakkayars are also included as a section of the Labbais, though they differ considerably from one another in certain customs. Some historians say, the Urdu speaking Muslims who came from the erstwhile northern Indian provinces simply called all Tamil Muslims Lebbais.
Nainars are believed to be the descendants of Sultan Jamaluddin who reportedly migrated from the Iraq area, fleeing from political perils, through the port of Aden in Yemen, in 1284. They were involved in the trade of pearls and horses and later became Nainars, the word meaning "leader" in Tamil.
Another esteemed clan Makhdoom boasts of a legacy of producing great scholars and leaders, their lineage traditions sailing back to Arabia. Lexically, "the one who is to be served", Makhdoom could initially be an honorific given to its pious and revered forerunners. However, one senses that there is an undesirable tendency of placing oneself ethnically better than the other, as it happens in many heterogeneous societies. As an unfortunate result, sometimes, exclusive and exclusivist history projects pop up, in the name of family histories.
Theses clans are significant in the town as the marriages usually do not cross these borders, says an elder. A young scholar informed this writer that there are a lot of exchange marriages where a man marries a woman whose brother weds the groom's sister in return.
Sumaiya Mustafa, the town's dedicated culture chronicler and blogger says that the marriages are mostly within the original Kayalpattinam settlers, too. "Clans are put into great scrutiny while looking for matches. As a result, we don't have relatives outside the town, most of the time. Mostly, people marry somebody down the lane or a distant cousin. My parents were first cousins. Also, going by a different relationship tree, my mother is my father's aunt, too. This can be confusing. Fixing or detangling family relationships in Kayalpattinam is like trying to fix an idiappam. It's famously called idiappa sikkai," says she.
In Sumaiya's case, she broke the taboo of marrying a "non-Kayalite", for the first time in her family history. But, the fact is that her husband's family has been living in Kayalpattinam for the past 30 years ever since her mother-in-law arrived there as a school teacher; still, they were not considered as original Kayalites. The irony is gripping. But, Sumaiya adds, it is absolutely okay to marry someone from Keelakarai, the neighbourhood port town with whom trade and marital bonds are multifarious. "Keelakarai and Kayalpattinam are like two long-distance cousins. We share a lot of history in common. And now Keelakarai is a little wealthier than Kayal," she states.
In Sumaiya's case, she broke the taboo of marrying a "non-Kayalite", for the first time in her family history. But, the fact is that her husband's family has been living in Kayalpattinam for the past 30 years ever since her mother-in-law arrived there as a school teacher; still, they were not considered as original Kayalites. The irony is gripping. But, Sumaiya adds, it is absolutely okay to marry someone from Keelakarai, the neighbourhood port town with whom trade and marital bonds are multifarious. "Keelakarai and Kayalpattinam are like two long-distance cousins. We share a lot of history in common. And now Keelakarai is a little wealthier than Kayal," she states.
Although the matrilocal practice is very strong in the town, the Salafi revivalist movement, active since the 1950s at least, has been campaigning against it. For them, the practice of husbands staying at wives' houses is innovation as the Prophet did otherwise. They promote the custom of bringing the bride to the groom's house. Tamil writer Salai Basheer, himself a member of the Salafi juma mosque, Masjid Al Azhar, however, dismisses the idea as impractical, "If I decide to stay at my place and bring my wife home, then my sister would suffer as her husband would be staying at my house, following the tradition. You can do that only if you can afford to build a house on your own." It looks like fighting the matriliny here is impractical and probably unnecessary, too. The ownership of the house traditionally goes to the women, not to their husbands, of course.
However, the Salafi movement is credited for partially ending the misogynist practice of female circumcision or khatna in town, through active campaigns. Despite the taboo attached to it, a millennial woman told this writer that, before her generation, it was a norm of the town. "My mother, aunts, grandmother and all of the foremothers before that had it done. I was born in the early 1990s and my maternal grandmother was very stern about doing khatna for me before I was even named. But my father strongly opposed and it didn't happen. My mother tells me that mine was the first generation to escape this atrocious custom."
However, the conservatives justify khatna by citing certain "kitaabs", though, historians say, it is a West African tribal custom adapted by converted Muslims and then spread to different cultures, mostly trading communities, accompanied by patriarchal notions. The World Health Organisation categorically states that female genital mutilation (FGM), in any of the four classified types, offers no health benefits but only harm. Both on medical and human rights grounds, this is a practice strongly opposed by rights activists across the world and a criminal offence in several countries.
When it comes to the urge of preserving the cultural identity, another issue that Kayalites face, is the arrival of outsiders – Muslims, of course – to settle in the town. Muslims from other towns buy plots or houses and settle here and "their culture sometimes does not match with our culture," says Mehboobul Hasan, an Indian Union Muslim League leader. "We also know that they decide to settle here because this is a very calm town and an ideal place to live. But, some of them come here after being ousted from their local jamats and this can cause trouble. We are afraid this may even lead to law and order problems." 
Kayalpattinam is one of those rare municipalities without a police station, despite a population of more than 40,000 people, and three religious communities, including Hindus and Christians living in the outskirts of the town. When the authorities put up a police chauki near the bus station, some time back, the locals firmly resisted, questioning its need and relevance for a town known for harmony and peace. The tiny police cabin now remains shut and unused. However, an unnamed source said, half of the cases reported at the nearby Tiruchendur police station come from Kayalpattinam: mostly civil disputes. A housing project for the fishermen community was stalled due to the disquiet of the change in demography, remembers Hasan.
Kayalpattinam, like all major Tamil Muslim towns, is a DMK town, to the extent of some local politicians terming it Kalainjar Pattinam. For the last five years, thanks to the policies of the recently defeated AIADMK regime, there have not been local body elections in the state, and as a result, there was no governed body to rule Kayalpattinam municipality. However, in the past, it was the Kayalpattinam Muslim Aikkiya Peravai, the umbrella body representing all Muslims of the town, who unanimously decided the rulers of the town. In other words, the Jamat placed their candidates in the local body elections and they always won – except for a single case of an independent candidate called Abida fighting against the status quo and winning – although she was forced to join the AIADMK later.
The World of Women
If you are a woman, you have a unique parallel world in Kayalpattinam. Literally, sometimes. When men go to masjids, women go to Thaikas. (There are two Salafi masjids where women attend Friday prayers). In every street, you find Thaikas where women gather, pray and recite dhikr. The first two rows are offered as waqaf, a religiously pronounced sacred space, where namaz is held, and the rest of the space can be occupied by anyone, including the menstruating women – a welcome inclusive dynamics where women of all predispositions and "impurities" are accommodated. However, mostly, men lead the prayers and they use a separate door to enter and exit. Once the prayer is done, it is an all-woman space. Traditional dhikr and hymns in remembrance of the saints are offered here in groups, in regular intervals.
The town has innumerable narrow alleys, called Mudukk, for women to walk through the town, offering them peculiar privacy. Between buildings and houses, these exclusive pathways are meant for women to cross the town, from one end to the other, in safe segregation and without meeting men: that's how the town's tradition looks at it. Men are not expected to use mudukk and no man ever does. That also means, when you build a house, you have to share the space for mudukk; so, you won't build a house occupying your entire plot. Thus, every house stands between two mudukks that could be well-walked through, a parallel network of the town and probably an adaptation from North African towns thanks to their Arab ancestry.
Every traditional house typically keeps two side doors that can be opened to both mudukks that lie on both sides of the house. Quite interestingly, this side door for women is called Thalaivasal (main entrance) and a bride and groom are supposed to enter the house for the first time, after the wedding, through this door, not through the door that men use from the main street. In the old town, many shops still have a defunct window, called Thonduvasal, meant for women to shop without appearing in front of the shop, standing in a mudukk.
As many Kayalites are expatriate businessmen living elsewhere, their houses lie vacant for long seasons. They come only during vacations or weddings or for Eid. As a result, sometimes, they build gates and the mudukk system can get affected.
However, today, you can see innumerable women walking on any street, particularly the central bazaar area, day and night, almost all of them clad in black purdah. Many cover their faces and it is not just the Covid gear – niqab is tradition here. Earlier, before purdah made an overpowering presence, women wore sarees and wrapped themselves with a white cloth, calling it burqah. Rarely, you could see elderly women walking in this indigenous hijab even today.
Separation of men and women from inter-mingling is an age-old practice in Kayalpattinam, like many traditional communities. Boys and girls go to different schools. When it comes to college, girls join Wavoo Wajiha Arts and Science College, at the outskirts of the town, whereas boys typically go to Jamal Muhammad College in Trichi or New College in Chennai. Nowadays, both girls and boys are flying abroad for higher studies, to places such as China, Malaysia, Singapore, Hong Kong and Russia.
Earlier days, in the Kayalpattinam beach, the northern side was reserved for women and the south for men. However, after the district tourism promotion council advertised Kayalpattinam as a clean and tidy beach, families from Thoothukkudi and Thirunelveli started coming on weekends and such separations were no longer practical.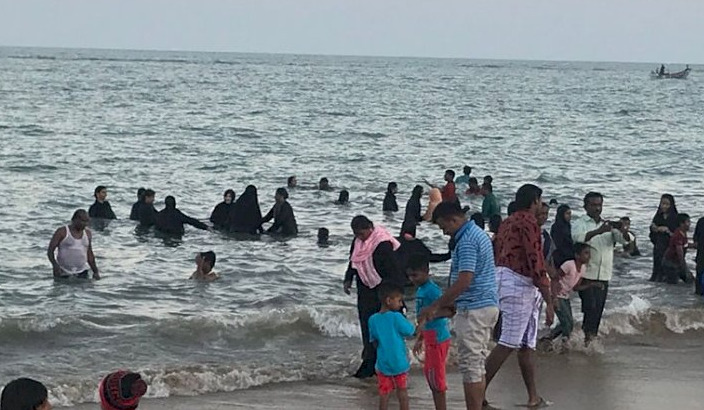 Kayal and Entertainments
In such a space, how do people entertain themselves? There are many answers ranging from yummy cuisine to wedding practices to regular festivities. It is a common sight where elderly men sit at Sadukeyis and play a form of chess called Daam Kali, in the interiors of Kayalpattinam. Adjacent to the end of streets, or with many masjids, you can see a small open structure where men sit and chit chat. It's called Sadukeyi, one of the streets is also named Sadukeyi street. Football is the major sport in Kayal; matches and tournaments abound in the season.
The direct exposure to diverse civilizations for prolonged centuries has turned the Kayal cuisine matchlessly delicious and distinguishable, believes Sumaiya Mustafa, whose blog mostly focuses on Kayal cuisine. The culinary wisdom of many cultures has found their ways to the Kayal kitchens, thanks to trade, travel, migrations and invasions. Perhaps, the biggest influence comes in the form of Sri Lankan cinnamon and Maldivian tuna (Maasi), along with the whole flavours of South East Asia.
Sumaiya Mustafa says, "our men travelled as far east as all of South East Asia and brought in ingredients as Pandan leaves. Maldives fish or the famous maasi (cured Tuna) which was once bartered for the Sri Lankan treacle between the Indian Ocean vessels were also brought home. Over the years maasi became one of the main pantry staple in the community which has now given rise to many home-grown maasi businesses. The good quality Sri Lankan cinnamon gives our aanams (curry) a very floral tone along with the Pandan leaves. And milk powder and tea leaves from Sri Lanka are always Kayalpattinam's 'close to heart' Pantry staples. So, tea is always very milky here unlike in other parts of the subcontinent." She adds that condensed milk, usage of eggs in traditional sweets and baking are some of the brow-raising parts of Kayal culinary traditions.
One wouldn't miss noticing the community dining system that's still prevalent in Kayal weddings. Two or three men share the special food from the same dish, giving a sense of unity and fraternity. Usually, for weddings, the interior streets are blocked for a few hours and converted into makeshift wedding halls with a decorated stage towards one end for the nikah. The people of the neighbourhood attend the nikah, typically men facing the stage and women sitting behind the stage; the feast is served afterwards in a long line, sitting on the floor. 
Summing up a long legacy, one feels that, Kayalpattinam's distinct cultural heritage, having intricately evolved through centuries, as a result of intense and intimate interactions with civilizations as vast as Arab, South East Asian, Chinese, European and the native, deserves narratives that are less journalistic and more ethnographic, as it encompasses a large spectrum of objects and experiences varying from marriages to town planning to tastes and aromas to leisure life.
[This was the first part of a series on Kayalpattinam, originally published in TheSite.in, under a documentation project on influential Muslim cultural centers in India.]
Original: https://thesite.in/matrilocality-mudukku-and-maasi-kayals-distinct-cultural-saga