Kalabhavan Mani, An Organic Artist of Heart and Soil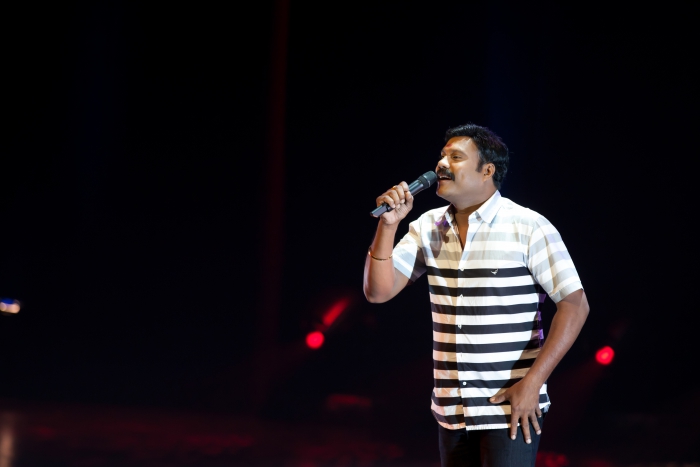 South Indian actor and Malaylam singer Kalabhavan Mani was distinct with his versatile acting skills, legendary folk songs and pro-people cultural positions, writes MUHAMMED NOUSHAD.
Almost one month has passed since the south Indian actor and Malayalam singer Kalabhavan Mani died. Although he had liver and kidney ailments, his family has cast doubts over his unexpected death; the Kerala police are yet to solve the mystery of his "unnatural death" for which they have filed a case, and according to autopsy reports, dangerous chemicals were found in his blood. Even after weeks of his shocking demise, scores of people are visiting the house he had spent his last days by the river Chalakkudy and the police had to finally put restrictions to the visitors, reported Malayalam news papers. It shows the kind of popularity and acceptance Mani enjoyed or still enjoys.
In Malayalam film industry's elitist, Savarna tradition, Kalabhavan Mani was an "antithesis"; very distinct in every sense. A deeply talented and highly inspired artist with indomitable energy and irresistible charisma, he was perhaps the first black body Malayalis started to like and associate with. With a proud Dalit identity and unashamed working class background, having spent a childhood of miserable poverty, being a drop out of the educational system, Mani was a completely self-made man of calibre, courage and spirit. An admirable sense of resistance overwhelmed him and gave him an aura of acceptance as the ordinary people could easily identity their own son and brother in Mani. Unlike other film stars who usually keep their personal lives away from the common people, Mani was a potential possibility for all of us, the common folk, as cultural critic CS Venkitewaran pointed out in his study on Kalabhavan Mani. He challenged what it is to be a star in Malayalam film industry, with his looks, his black skin (about which he has been vocally proud), his inimitable un-classical voice, his ever-flowing energy and above all his down to earth humility. The way he went down to the people was heroic and unprecedented in Malayalam film industry. Everywhere he lived with the people and people found no barriers to access him, despite the fame and power he gained through films in many south Indian languages. He was a fund-raiser for innumerable needs of charity in his small town Chalakkudy and himself a very generous philanthropist.
As a drop-out, Mani used to drive auto rickshaw in his small town Chalakkudy in Thrissur district. His artistic career began as a mimicry artiste at Cochin Kalabhavan, a renowned mimicry troupe that has contributed several actors to Malayalam film industry. Mani's former colleague and cine artist Dileep remembers that when most of the mimicry artists were imitating film stars Mani would conquer the stage by becoming a tiger or lion or a monkey. His acting was versatile and impressive. Completely untrained, he easily transformed into characters. Sometimes, critics accused him of melodrama. From comedy to character roles in Malayalam to formidable villain roles in Tamil and Telugu cinema, Mani's growth and evolution was gradual and unforgettable; from a negligible junior artist to an admirable national award winner (special jury prize for Vasanthiyum Lakshmiym Pinne Njanum). His versatility as an actor allowed him to perform anything that varies from sentimentalist roles of commercial cinema to very demanding subtle performances of more mature films. However, it is a pity that Malayalam film industry couldn't use this actor's caliber as much as he deserved.
Although Kalabhavan Mani's celebrity status undeniably came from the films he acted in, his popularity saw a huge rise after he turned into singing folk songs on stages and for albums. The adorability of Mani the singer simply outgrew the fame of Mani the actor. He belonged to those breed of singers who would make the huge crowds sitting before him stand up and dance. The local rhythms and tunes of Malayalam folk song tradition saw a revival through his albums and performances. Most of the songs he sang were new and original, sometimes adaptations, often written by his friends and sometimes even by himself. He became a distinct brand name in Malayalam's folk music scenario. As poet S Joseph opined, it was through his voice and singing style that post-modernity and subalterns of Kerala first had had its meeting. He popularized a unique singing style, which was very much away from the typical upper-caste musical sensibility that reigned in Kerala's popular music culture for decades.
His each song had an inseparable context attached to it, apart from the story the song narrates in itself. During every performance, before a thrilled audience, he would share the way a particular song came to him or he came across a particular song, and then in the middle of it he swiftly jumps into the song; the accompanying musicians and the audience would follow and move with him. You cannot listen to him, calm and quite; he moves you literally. He invades your body and soul, through the mood he creates through the tunes – from deep melancholy to thrilling ecstasy. He leaves the stage while singing, holding the mike and moving rhythmically, towards the audience, often to the back row, asking his "friends" to join him dancing. In many videos available on YouTube, you can see women giving their small kids to Mani while he sings and he carries them singing one or two lines and returns. There are certain songs in which he takes the audience from one mood to another mood – joy to sadness, for instance. All themes that are typical for folk songs were his favourite themes too, from poverty to labour to romance to resistance. The common people's village life and its thriving dynamism are strongly alive in his renderings. This organic relationship he had with his own traditions and the people helped him become a great singer and a beautiful human being. He was a fully grown Malayalai who went beyond being racist tags like 'Malayali', through his reaching out to other languages and cultures and by denying the stereotypical frames of typical elite Malayali cultural milieu. In cinema, he might have been fed with more or less stereotypical roles, but in life he broke them all with his pleasant and humorous worldview.
Mani knew the art of touching people's hearts; he has always been a man of the heart and the soil. He has always been proud of his working class origins, very vocal about his friends, villagers and parents, but never trying to draw sympathy; rather he used them to inspire people, particularly the fellow Dalits and the poor in the society. Forty five was an unfair age for someone like Kalabhavan Mani to die; but destiny has had it. Kalabhavan Mani was a legend in the making. His life has had everything to term it so.
[This article was originally published in Kolkata based journal IndiaRee (www.indiaree.com), April 2016, in the section titled 'Essays on Contemporary Indian Culture'. All photographs from the Internet.]